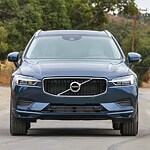 When it comes to luxurious cabins, the Volvo XC60 is a leader in the compact, luxury SUV segment. That's because the XC60 combines Swedish luxury with advanced features. Here is a look at what the XC60 has to offer.
If you review other compact luxury SUVs, you will notice that the touchscreen seems "tacked on" with little thought to design. The XC60, on the other hand, vertically mounted the touchscreen on the center console to create a clean look. When it comes to sound, the XC60 offers the powerful 15-speaker Bowers & Wilkins premium audio system. Now you can hear your music as you've never had before. Overall, the XC60 is designed to give you a first-class cabin experience.
Discover why the Volvo XC60 is a top choice. Visit us today at Volvo Cars Normal and take a test drive. We look forward to offering you an enticing Volvo XC60 deal.