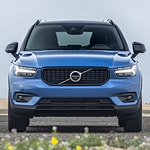 Exterior features aren't often known for being luxurious, unless we've been missing something here at Volvo Cars Normal. Many exterior features usually have to do with the vehicle's overall design or something along those lines. However, the Volvo XC40 is one luxury subcompact SUV that actually brings luxury to every part of its design.
The XC40 is equipped with some futuristic technology that will help you in ways you might never have even considered. Features like the XC40's Rain Sensor will automatically turn on your windshield wipers when rain is detected - while this doesn't sound like it'll really save you time, we promise you'll miss it after using it and going to a vehicle without it. Standard door handle illumination also makes it easy to locate your car's handle in the dark - who thinks of this stuff?
Here at Volvo Cars Normal, we think you should come by to test drive the XC40 yourself.