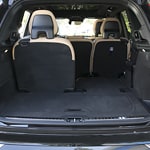 As you get ready to look for your next new vehicle, you should stop by Volvo Cars Normal and experience the luxurious new Volvo XC90. This is a popular SUV that is powerful, comfortable, and a lot of fun to drive. It has all of the features you need to have a great commute to work or to go for a drive across the country.
One of the more helpful performance features on the XC90 is the four-corner air suspension. This gives you a much more comfortable and stable ride, no matter what the condition of the road might be. You will even notice the vehicle lower when you are driving down this highway.
You will also get to select from four different drive modes. These create a personalized driving effect that you will appreciate as you learn how to better make use of the many features on the Volvo XC90. Take it for a test drive today at Volvo Cars Normal.