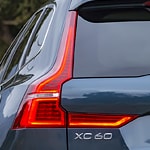 Your safety is the main thing that you should be focused on when you are behind the wheel. If you drive the Volvo XC60, then you can rest assured that you will stay safe. This vehicle has City Safety With Steering Support. It will monitor the road and help you brake or steer if necessary. It can detect large animals, cyclists and pedestrians.
Lane Keeping Aid can sense if you have crossed over into another lane without signaling first. It can also guide your car back into the right lane. Additionally, this vehicle driver alert control. It can detect if you are tired or distracted. It will give you a message and tell you to take a break.
Road Sign Information is another feature. It will keep you updated with the current traffic restrictions. It will also tell you about the speed limits in the area.