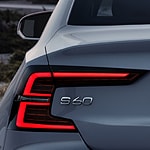 There are so many things to love about the Volvo S60. This popular luxury compact sedan has room for a family and cargo, has a sumptuous interior, refined exterior styling and plenty safety and tech. Plus, it performs like a champ on the road. It's hard to choose the Volvo S60's best performance features, so our Volvo Cars Normal team randomly chose the following two.
Adaptable Drive Mode Settings
Different road conditions in Normal call for different driving styles and vehicle performance. Volvo S60's Drive Mode Settings let you select between Comfort, Eco, Dynamic and Off-Road. Each setting tweaks the Volvo S60 engine, transmission and air suspension for more smooth, responsive, fuel efficient, agile handling.
Personalized Power Steering Assistance
Standard on the Volvo S60 is Electrical Power Steering, a steering assistance technology that automatically kicks in at speeds preset by the driver. Volvo S60 goes a step further, letting you select between a low, medium or high level of power steering assistance to complement your driving style, reflexes or road scenario.
See all of the Volvo S60's performance features in real time during a fun, informative test drive at Volvo Cars Normal today.